Concrete Feature Wall at Starbucks, Yorkville, Toronto
Starbucks, one of the world's most renowned suppliers of high quality and ethically-grown coffee, has such a passion for sourcing incredible coffee beans from the best farms in the world. Working alongside Quadrangle Architects, the team at Anthony Concrete Design created a unique concrete world map feature wall to highlight the global sources of their coffee, and create a stunning visual for customers in the Yorkville neighbourhood in Toronto.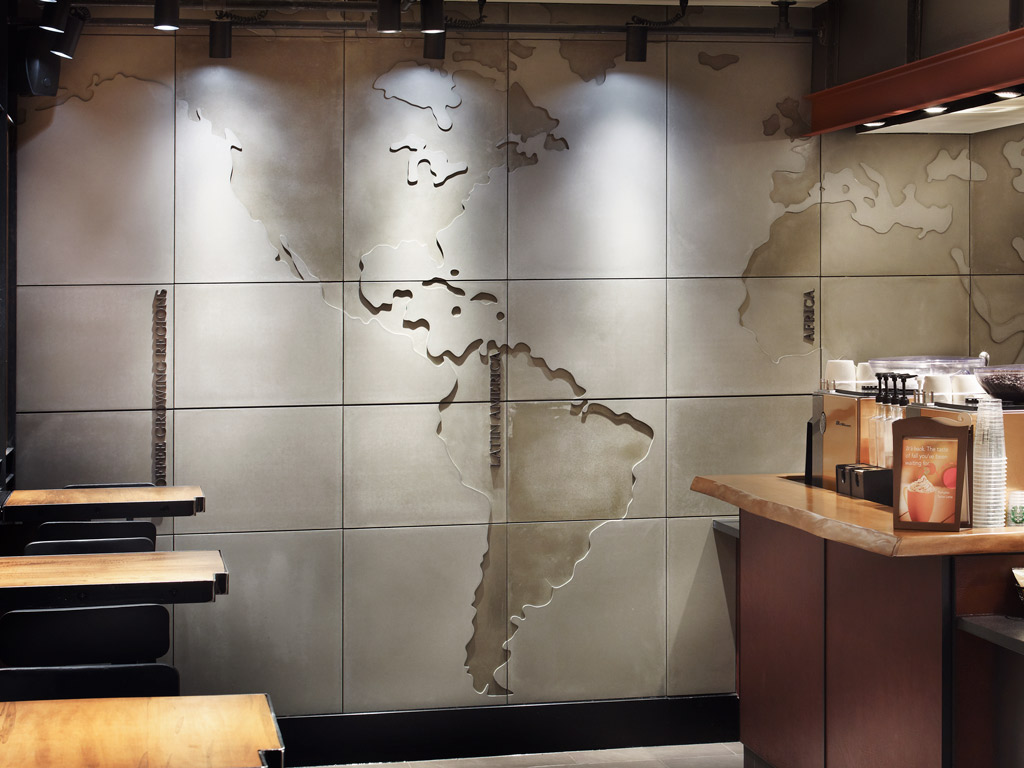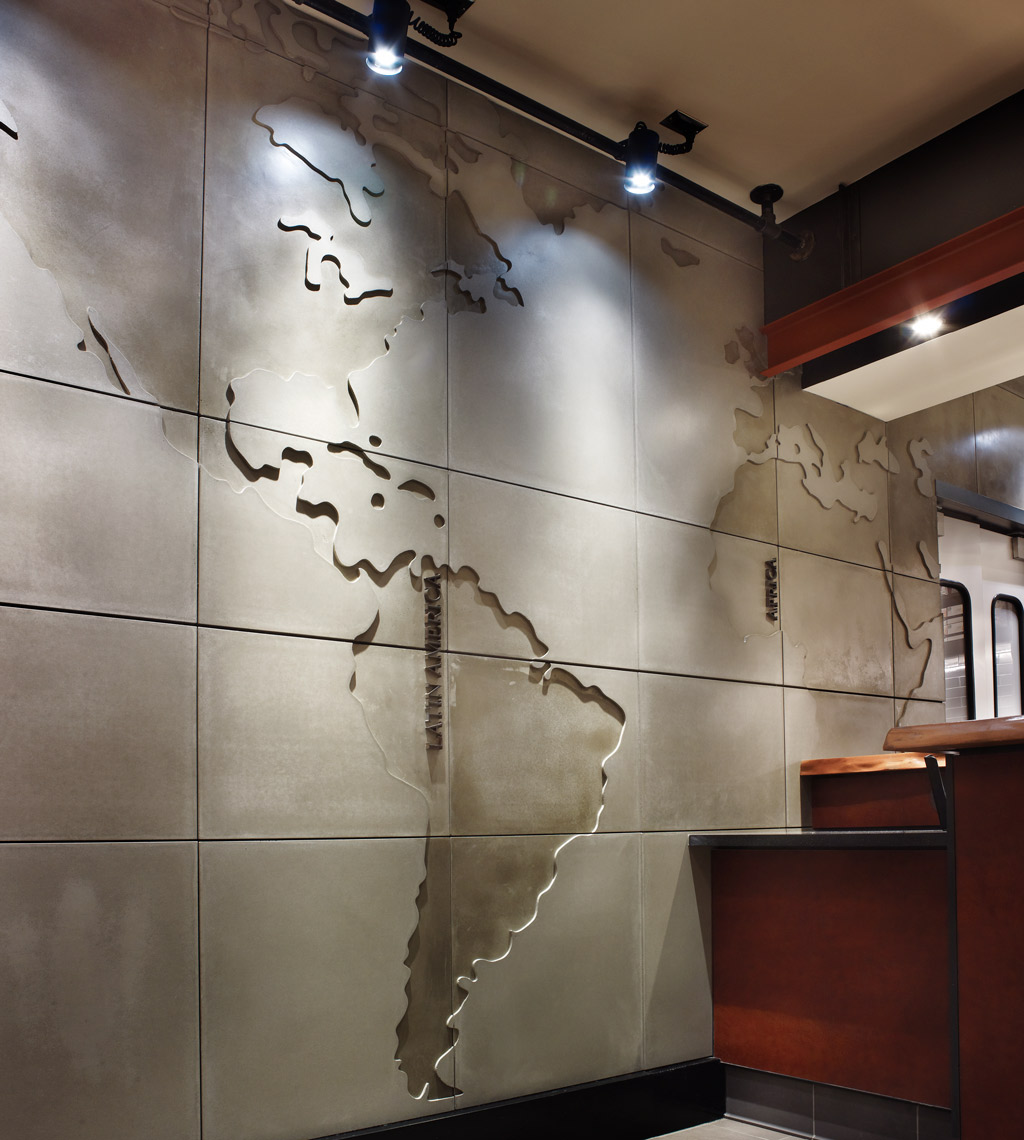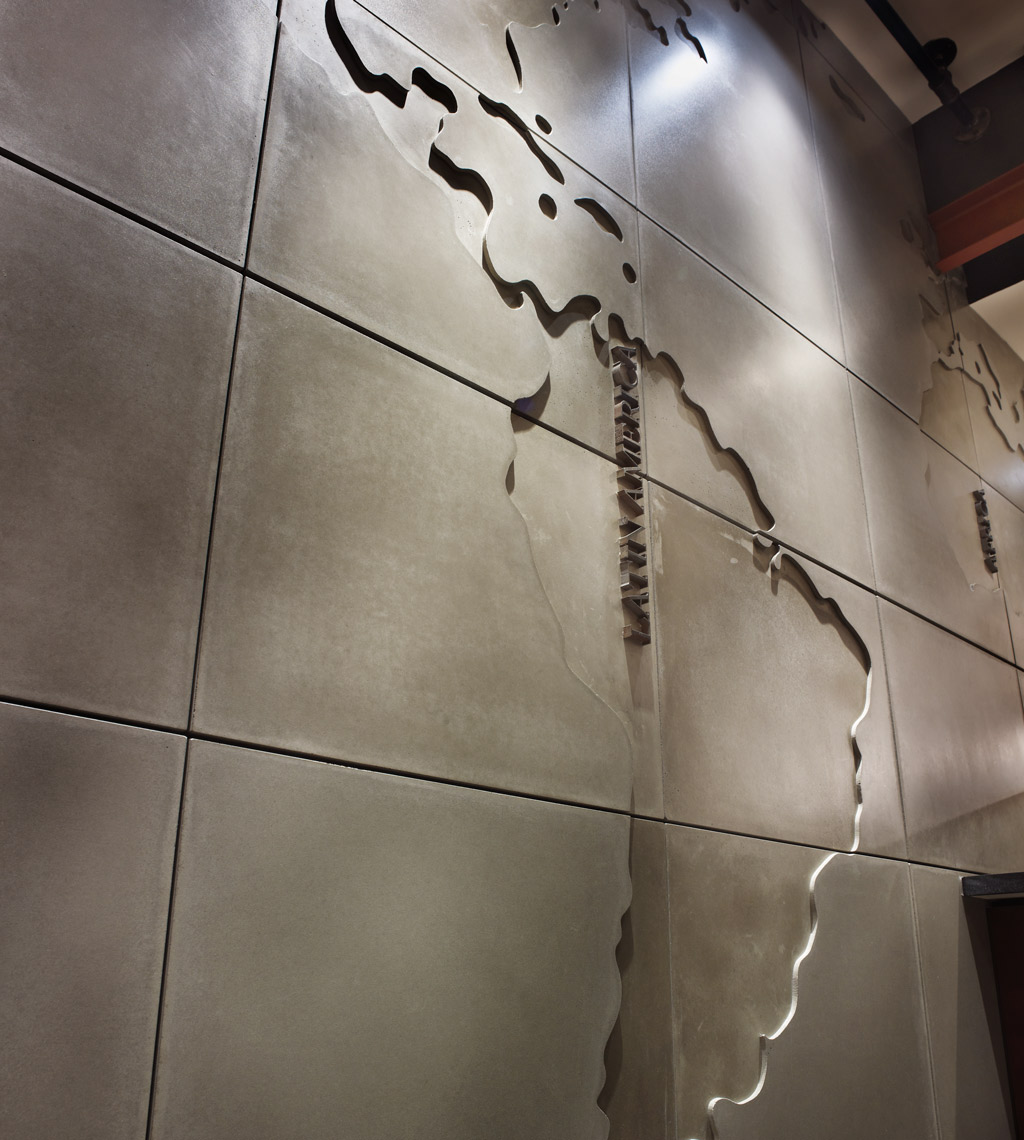 Concrete Shallow Relief Graphics
Popular amongst interior designers for retail usage, concrete shallow relief graphics are created using a set of 5/8" thick concrete tiles and  a 1/4″ recessed pattern, shape or logo is formed into each panel, resulting in a customized concrete 3D graphics wall feature. For this project, a set of entirely unique tiles were created by our team; these tiles were fit together like a puzzle to complete the customized final graphic.
Clients from a variety of interior and exterior retail locations could customize their concrete feature wall look and select from a variety of graphics, shapes, and logos to create a high-end final product that compliments your brand.
Custom Wall Panels to Suit Your Space
Starbucks' focus on global responsibility and supplier diversity has made their global focus a key component to their branding strategy, most of their stores feature a world map to demonstrate where their coffee varieties are sourced from. Using a concrete feature wall with concrete graphics, instead of simply painting a map onto the wall, was an incredible and unique way for this Yorkville, Toronto location to add a high-end finish to their branding strategy for their clientele.
This particular project was created for wall dimensions of 10' x 20' and used tile sizes that were approximately 24" x 30" and customized to suit the space. We used a smooth texture for this concrete tile project, however, clients are encouraged to pursue many creative options and customize their wall feature using concrete textures, colours, reliefs and shapes that best convey their branding.
Adding a concrete feature wall to an interior or exterior retail space is the perfect way to convey specialized branding and finish a look that is high-end and elegant without compromising longevity. Concrete is a timeless finish to a retail location and offers a long-term branding and design strategy that is memorable for clients.
At Anthony Concrete Design, we know how important a piece like this is to your home or commercial space. This is why we make sure that all of our concrete wall features are customized to your needs. Concrete is versatile, durable, elegant, unique and modern – some of the reasons why we love it! Work with us, a designer, or an architect to get the exact look you want.
Visit our Feature Wall Panels page or contact us for more information about concrete fireplace surrounds.