A Perfect Fit with Full Width Concrete Tiles
Large format concrete tiles that are full width across the face of a fireplace are growing in popularity and a perfect fit with interior design trends. Loved for their clean, nearly-seamless appearance in applications such as fireplace surrounds and concrete wall textures, large format concrete tiles are the perfect modern approach to interior design needs for the residential or commercial space.
Large Format Concrete Tiles for a Burlington, Ontario Client
We were recently given the opportunity to create a fireplace surround with full width panels for a client in Burlington, Ontario, who needed the concrete tiles to span the width of their home fireplace and create a living room that felt modern, clean and beautiful for everyday living.
This client's fireplace required wide, made-to-measure full span concrete tiles that fit their unique fireplace from floor to slanted ceiling. Our custom fabrication techniques allow us to individualize every fireplace surround that we install with great detail and precision, offering a made-to-measure approach that sets our concrete fireplace surrounds apart. To add a feeling of warmth to the finish in this family space, this fireplace was made with a distressed concrete texture in our smoke colour, which created a rustic and unique patina.
The aesthetic benefit of extra large format tiles is that they boast less grout lines; larger pieces installed together have fewer seams, and in the case of this particular residential fireplace surround, we used panels with a height of 20 inches to emphasize this clean look. The use of butt joints creates beautifully finished edges on the corners of the fireplace surround and offers a minimal, clean final product for this residential space.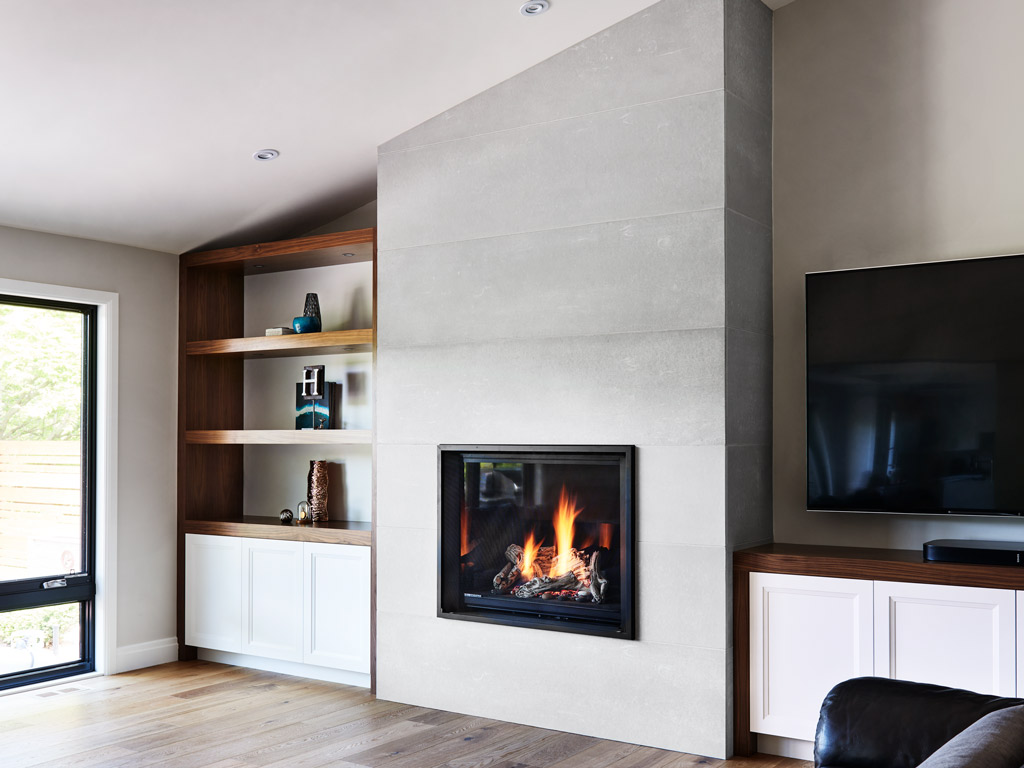 We'd Love to Work with You
It can feel overwhelming to take on a home renovation project, and we are here to help. Updating your fireplace surround can transform your entire residential space, and no project is too large or too small for us to discuss with you. Find out how Anthony Concrete Design can partner with you to create the home of your dreams, by adding or updating a concrete fireplace in one of the most beloved spaces of your home. Contact us today.