Pushing the Envelope; A Unique Fireplace Design by Superkül
Anthony Concrete Design was recently given the opportunity to collaborate with Superkül Architects; the award-winning, Toronto based team recognized as one of Toronto's top architects by Azure Magazine. Working alongside leading industry professionals on incredible projects such as this always gives us a sense of excitement, and when Superkül approached us to assist with creating a unique concrete fireplace surround including a wrap-around chimney on the house exterior, we were thrilled.
A Sleek and Sophisticated Look with Smooth Concrete Panels
This particular residential project called for a concrete fireplace surround designed to translate exceptionally well between the home's interior fireplace and exterior chimney. Creating a sense of continuity in style, the sophisticated look was created using smooth concrete tiles. The 10' high floor-to-ceiling charcoal concrete surround is comprised of 6" concrete panels in varying custom lengths. These concrete panels were expertly installed with incredible detail and precision by Anthony to match up the exterior chimney cladding to the interior fireplace surround. Pairing the interior and exterior design together created a completely finished look to the residence, ensuring flawless continuity in design and a dedication to creating the perfect space, inside and out.
Concrete was the perfect choice for this project for two clear reasons: first, the need to create a consistent finish on the indoor and outdoor space lends perfectly to concrete, which is suitable for indoor and outdoor environments. Second, the choice of a custom concrete fireplace surround is one that values not only style, but safety as well – concrete is naturally heat resistant, and offers peace-of-mind to any homeowner hoping to install or update their fireplace surround.
A Seamless Integration Between Concrete Tile and Hearth
The flexibility of our custom concrete tile fabrication services enabled Superkül Architects to design the spectacular combination of a large singular hearth piece that perfectly matches the concrete tiles. Like the concrete surround, the concrete hearth is both practical and beautiful, particularly for wood-burning fireplaces; the perfect compliment to a seating area that also creates a sense of consistency in design in this beautiful living space. Selecting the same colour tone of concrete between the fireplace surround and the hearth allowed Superkül to build and envision a space that adds incredible design features without feeling as though it impedes on the physical space of the living room.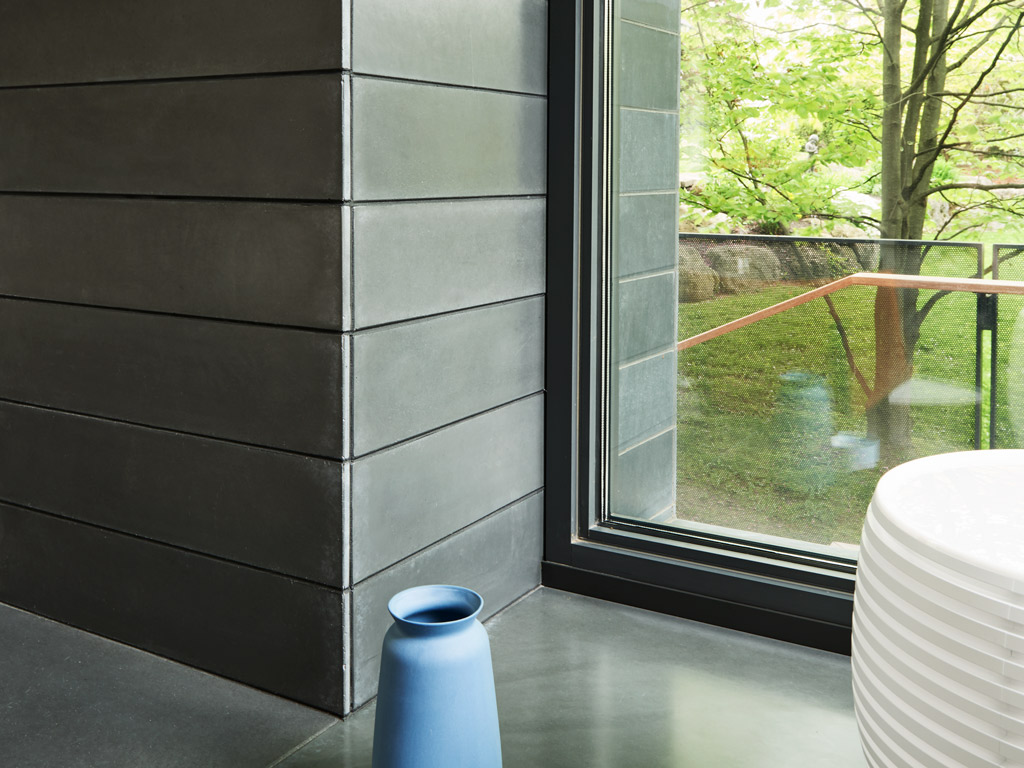 We'd Love to Work with You
By collaborating with outstanding designers and architects, we are able to push the envelope with fabrication and installation techniques time and time again. This particular residential project with Superkül Architects in Oakville, Ontario was a wonderful experience for our team, and we are thrilled with this finished project that extends from the interior to the exterior of this home space.
If you have a creative design concept that you would like to collaborate on, we are experts in creating designer fireplace surrounds that stand the test of time and would love to discuss how we can create something beautiful together.
By collaborating with outstanding designers and architects, we are able to push the envelope with fabrication and installation techniques time and time again.