5 Ways to Incorporate Concrete Design in Your Home
Concrete is versatile, durable, often more cost-effective than other cladding materials, such as marble or natural stone, and let's be honest, just looks great!  It is for these reasons that concrete is becoming more and more popular in home design and decor.
Concrete's versatility allows it to mix easily with almost any design style–farmhouse, bohemian, industrial, minimalist and more.  It creates a neutral backdrop that helps balance a space and blend effortlessly with other materials–wood, metal, etc.
Because of its visual weight, commanding presence, and interesting texture, concrete instantly draws the eye and grounds the space, making it an excellent choice for creating a focal point in your home, whether it be a concrete fireplace surround, a concrete dining table, a concrete feature wall, or a concrete coffee table.
So how can you incorporate this concrete design trend into your home?  The many ways to do so are as diverse and varied as the design possibilities that concrete offers.
Creating Balance with Raw Concrete & Minimalist Design
Minimalist design is often described as serene and peaceful.  It is devoid of clutter and as such, each element of the design stands out.  This design style really showcases the raw beauty of concrete and allows the concrete to be so much more than just a building material.
To combat the innate hardness of concrete, minimalist design often incorporates wood.  The warm, inviting tones of organic wood elements balance perfectly with the cool and sometimes harsh tonal energy of concrete.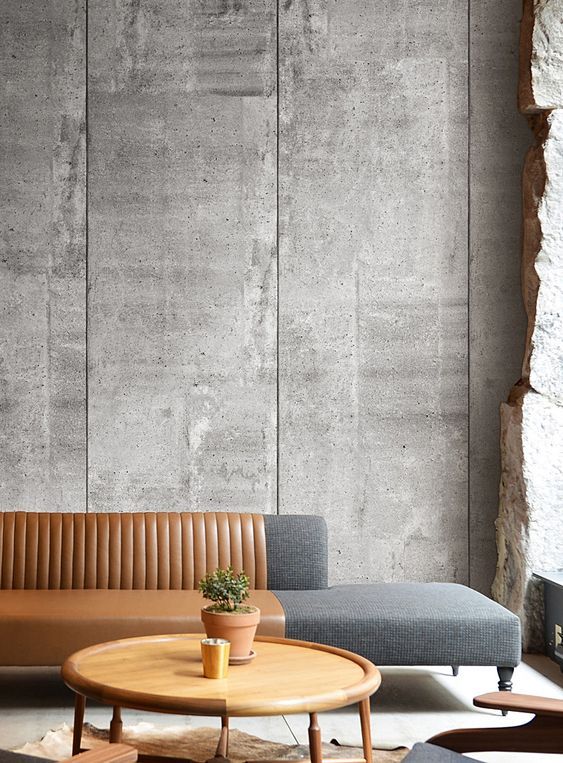 Shades of Grey
While our minds first go to industrial, minimalist, perhaps even brutalist design style when we think of using concrete in home design, it's not always so black and white.  Concrete works in almost any design style and it's these 'shades of grey' that allow it to do just that.
Concrete is available in a variety of colours but concrete purists insist on keeping true to concrete's natural grey shades.  This isn't to say that concrete colours can't still be varied and interesting. Each shade of grey lends itself best to a particular design style.
Concrete's lighter shades work best with a minimalist design style.  The less intrusive colour of the concrete allows the other design elements–furniture, artwork, textiles–to stand out and be the statement pieces they tend to be in an uncluttered minimalist space.  Light grey concrete also feels more light and airy as opposed to darker grey tones and helps create that open feeling common in minimalist spaces.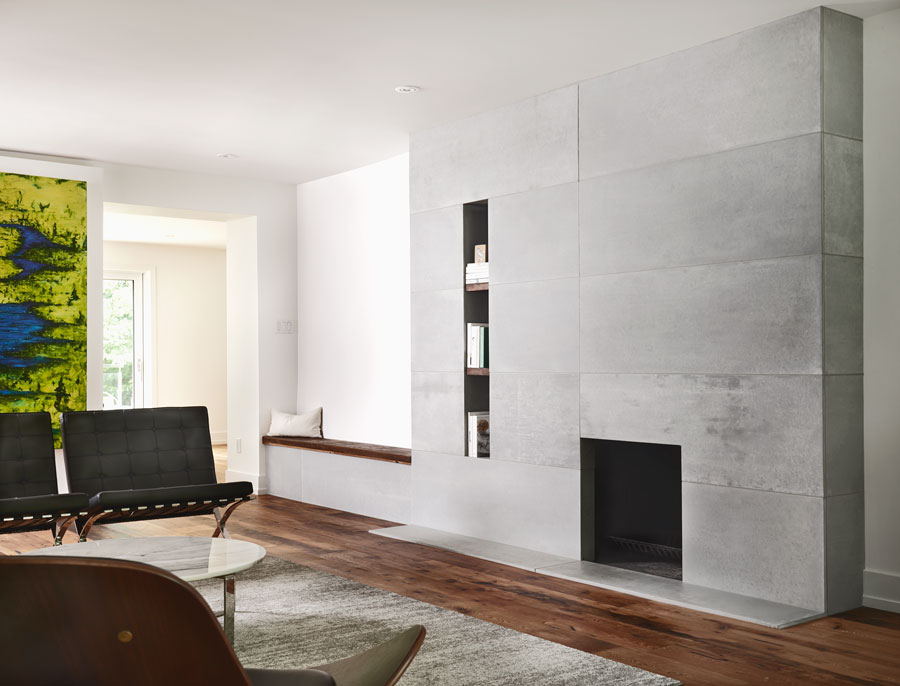 In its natural colour, concrete tends to have a medium grey tone.  This slightly darker grey hue can lend itself well to an industrial aesthetic full of rich brown leather furniture, dark woods, and metal accents.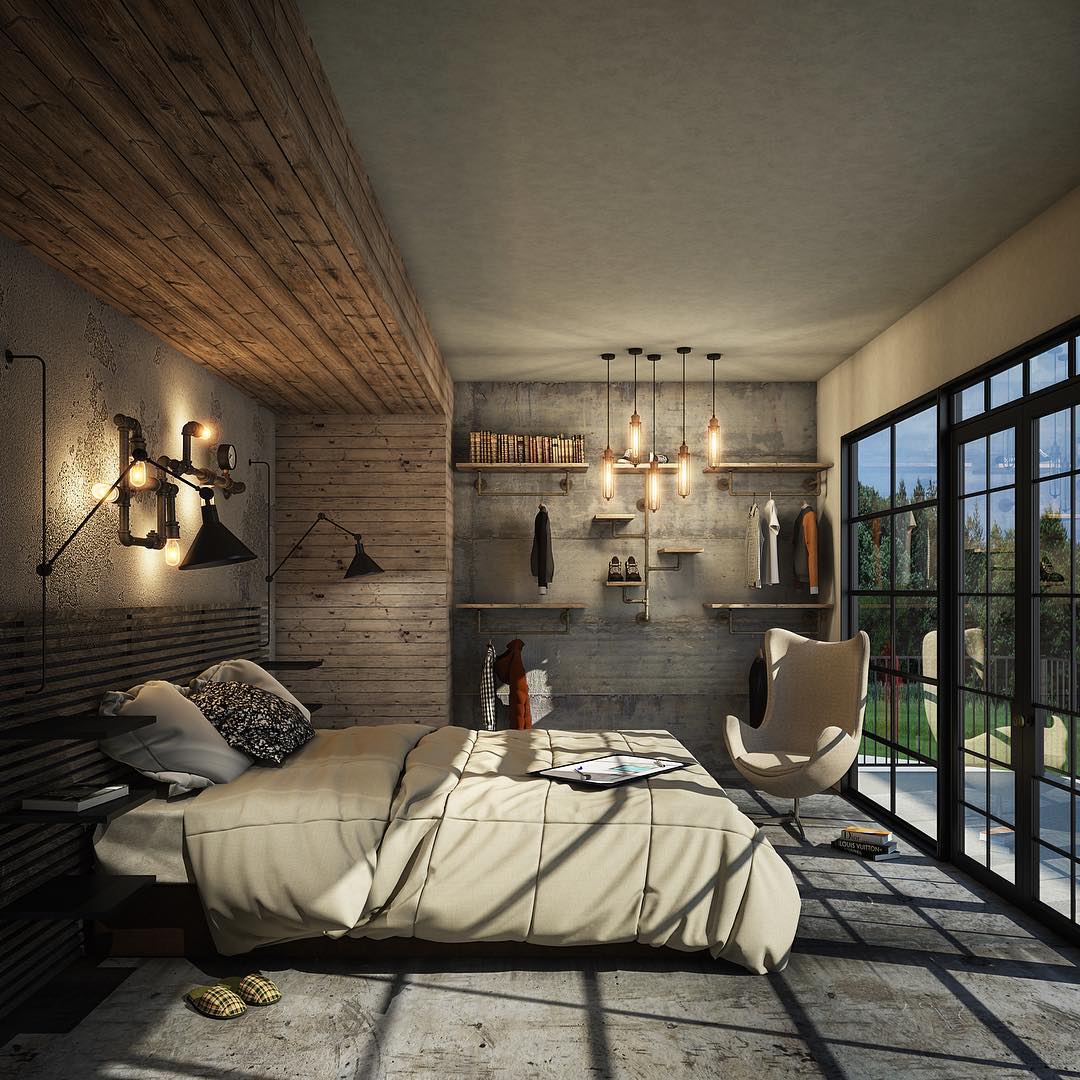 Dark grey shades of concrete, or even black, can impart a sense of drama to a room.  Paired with a dramatic rich colour palette and plush textures, dark concrete tones can add a surprising sense of warmth and comfort to a luxe design space.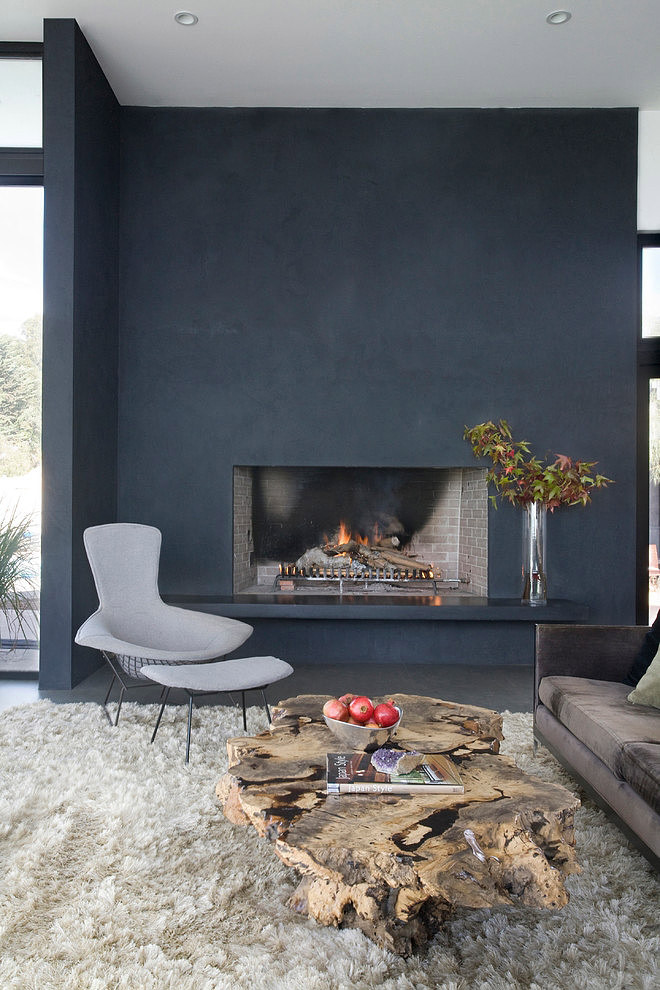 Limitless Design Possibilities with Microcement
When envisioning concrete in your home, think beyond just the walls and the floors.  With microcement, you can add a concrete look to just about any space in your home–fireplaces, stairs, countertops, bathrooms, furniture, and so much more. Microcement can be applied to virtually any surface–tile, metal, wood, plastic, plasterboard, cement, and stone. The design possibilities are truly limitless.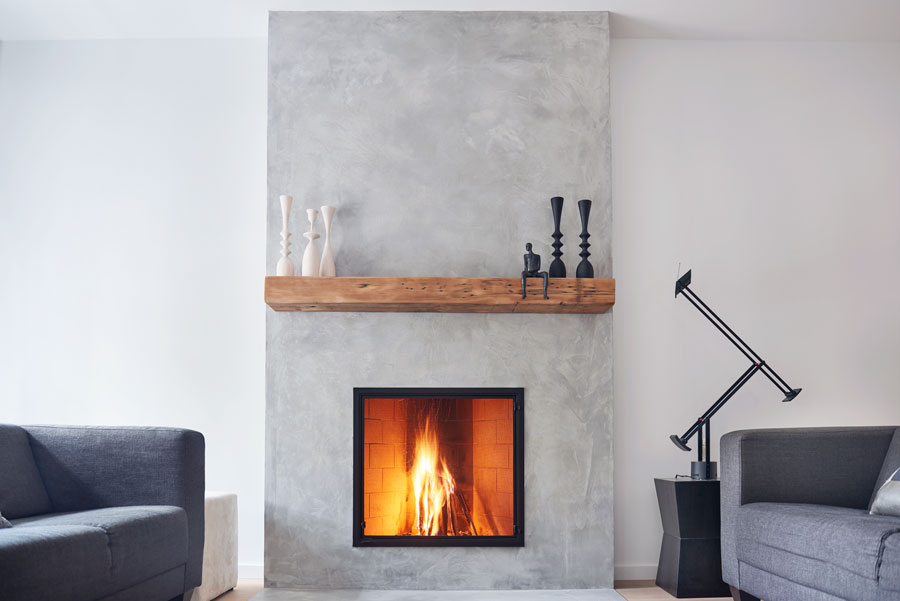 Because microcement is troweled on by hand much like paster, there are no joints, making it a truly seamless surface.  While other concrete products create a focal point in a space, microcement is more subtle, acting almost like a canvas upon which the other design elements are showcased, such as a work of art or a statement piece of furniture.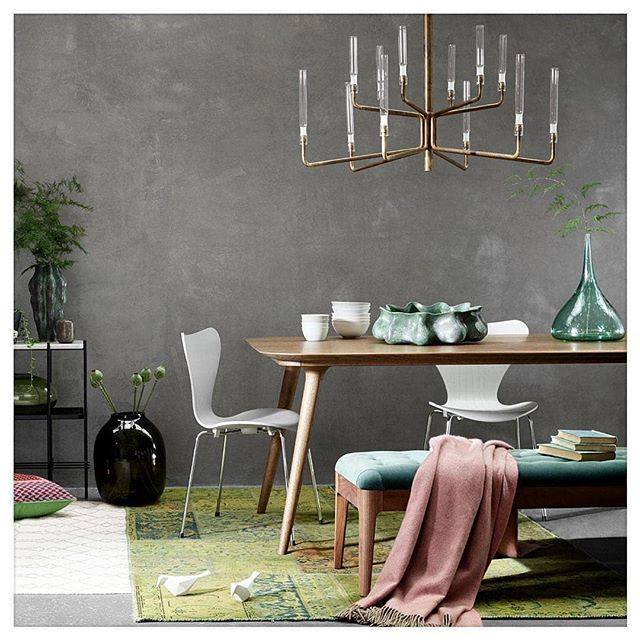 Touches of Concrete
If you wish to get your toes wet in the sea of concrete design but aren't ready yet to dive in head-first, decorative concrete pieces can allow you to sample the concrete trend in your home without committing to concrete walls or concrete floors.
Touches of concrete in the form of a coffee table, a bench, vases, a dining table, lamps or accessories can bring the concrete design trend into your home with subtlety.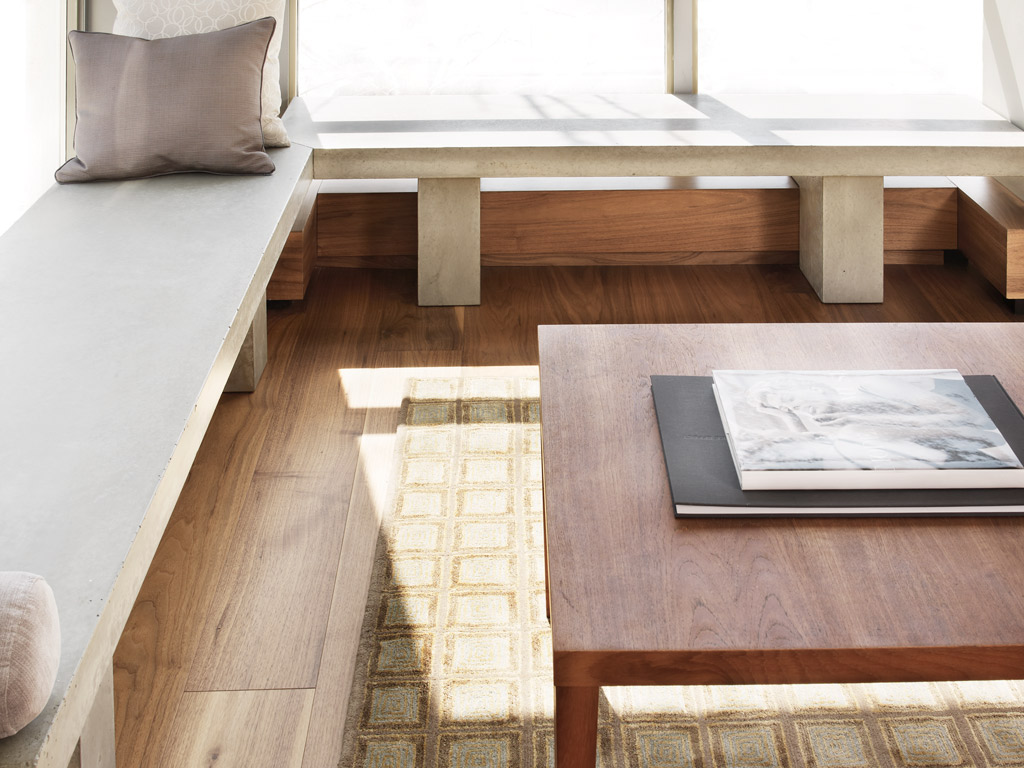 source – Anthony Concrete Design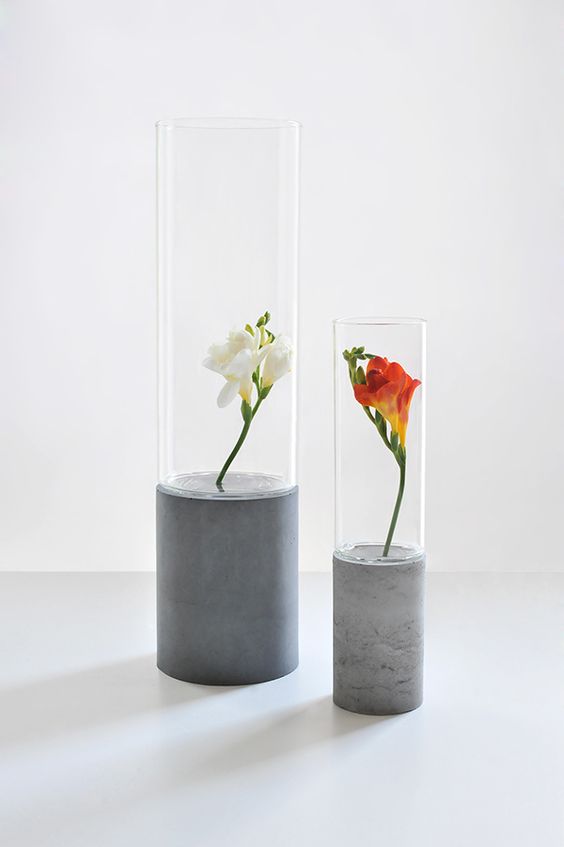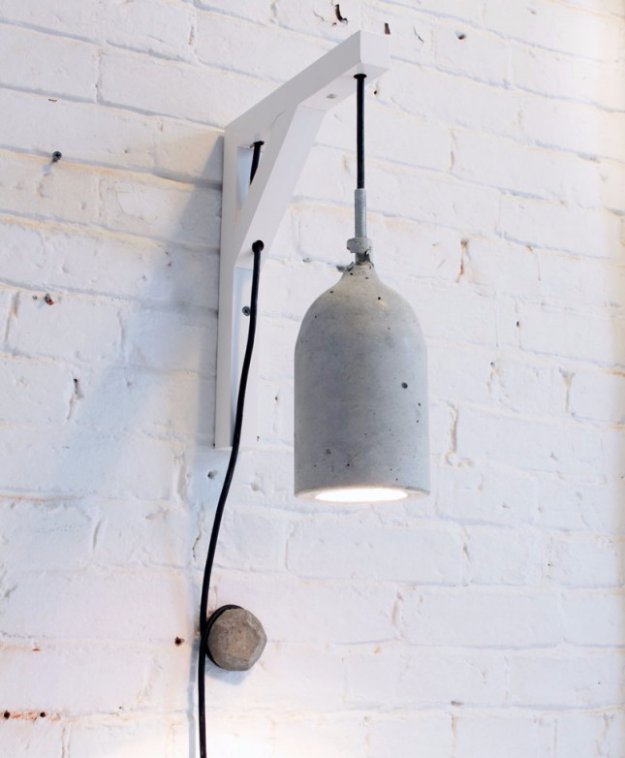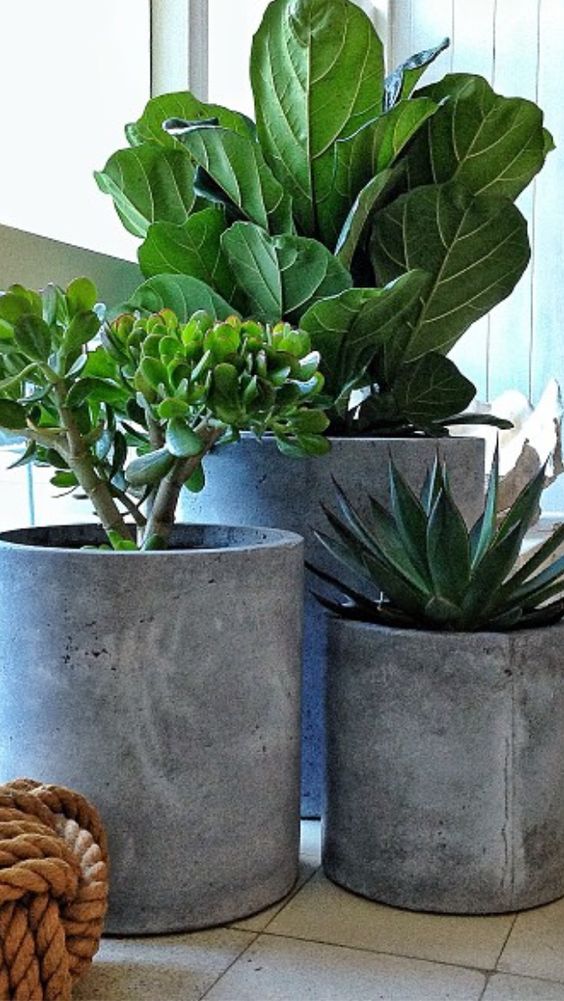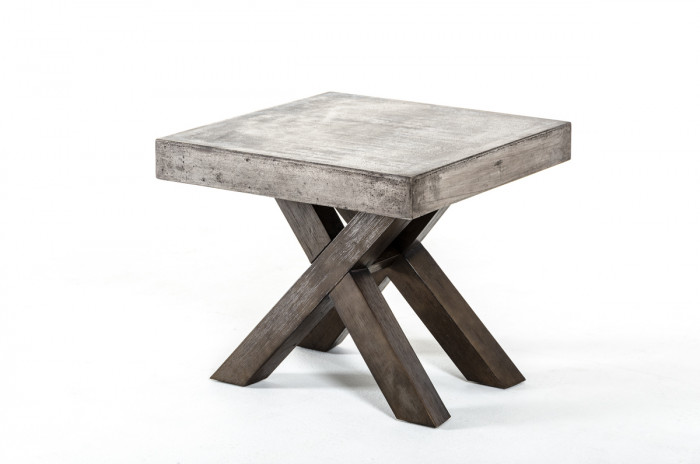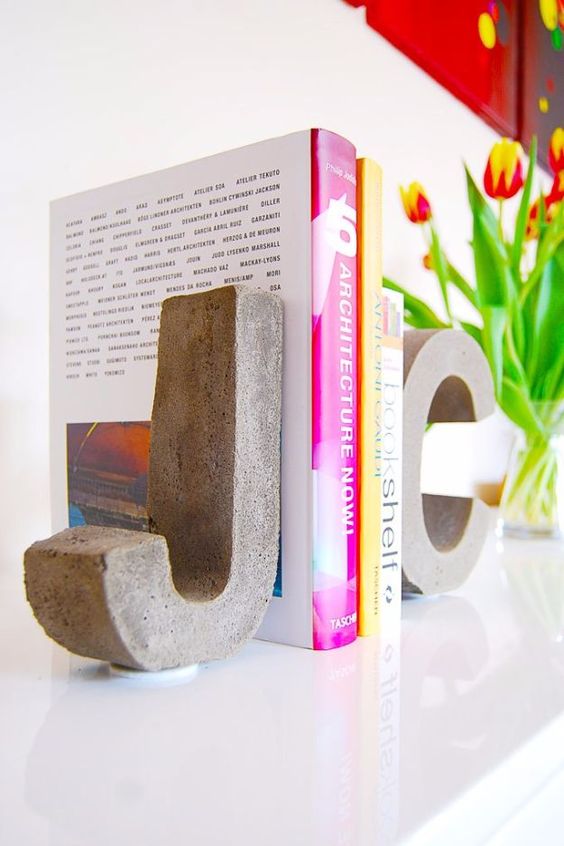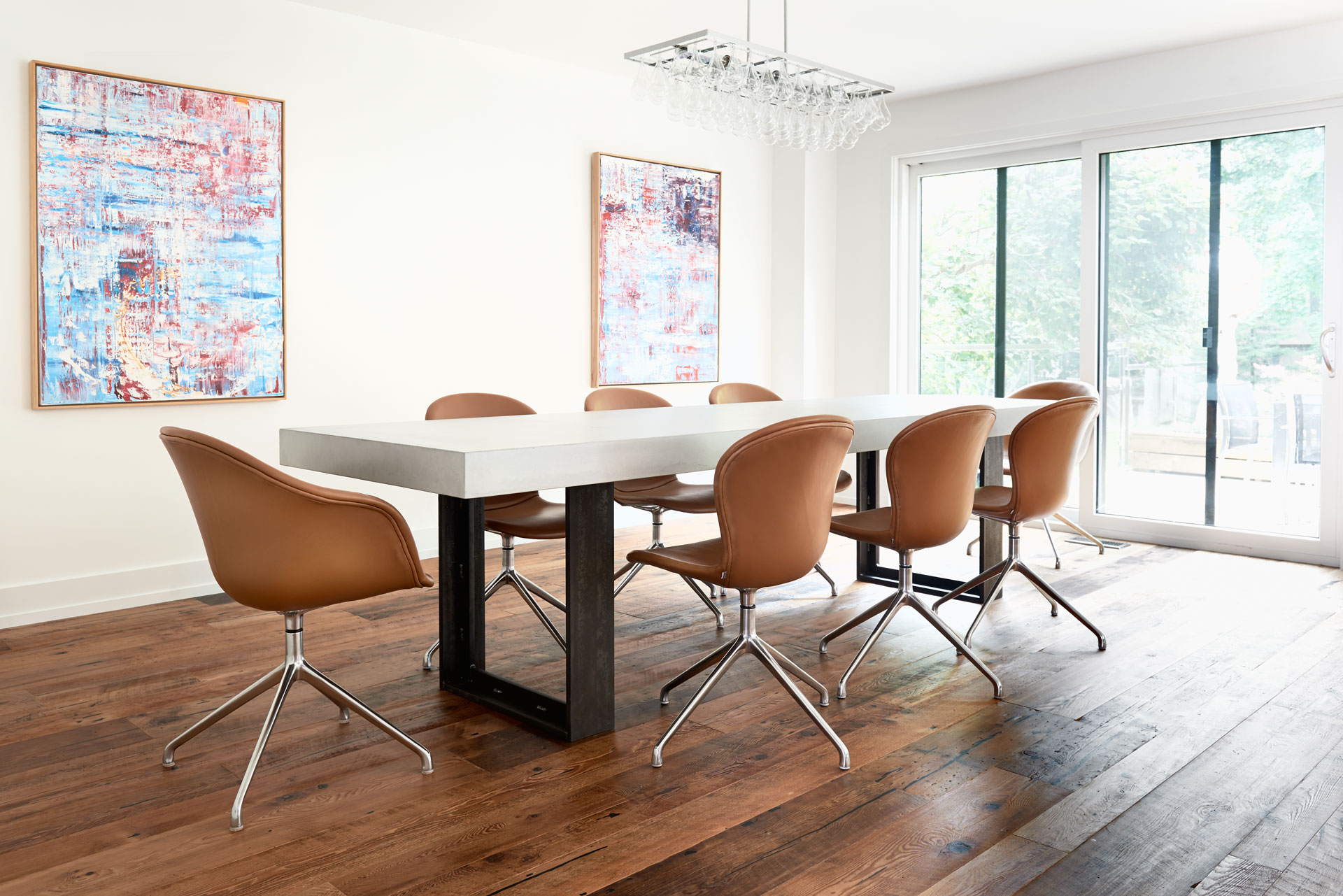 Board-Form Concrete: From Construction Technique to Trendy Design Element
Board-formed concrete is a common poured-concrete wall construction technique that requires the building of wood forms in which the concrete is poured.  The wood forms impart the wood grain pattern onto the concrete as it cures, giving your concrete the look of wood grain.  What was once simply a technique for creating concrete walls has now become a trendy concrete design element!
The wood grain pattern on the board-formed concrete visually softens and warms concrete's somewhat cooler appearance while still allowing the concrete to express its industrial side.  Board-form concrete lends itself really well to industrial chic spaces–a design aesthetic that takes modern farmhouse style and gives it more of an industrial edge.  Full of exposed brick, raw woods, exposed beams, concrete floors/walls, industrial metal lighting and plenty of glass, the allure of industrial chic design is in the mixing of textures and patina and texture is what board-formed concrete is all about.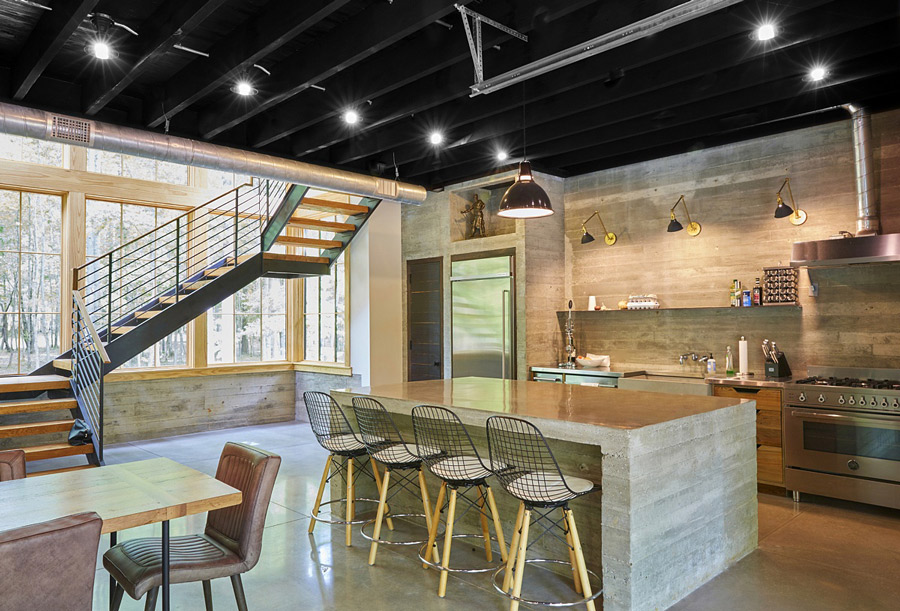 Whether on walls, just a feature wall, or a fireplace surround, board-formed concrete is a great transitional way to introduce concrete into your home without committing to a full industrial decor makeover and allows those afraid of concrete's perceived "starkness" to experience the concrete design trend for themselves with the help of warm wood grain details.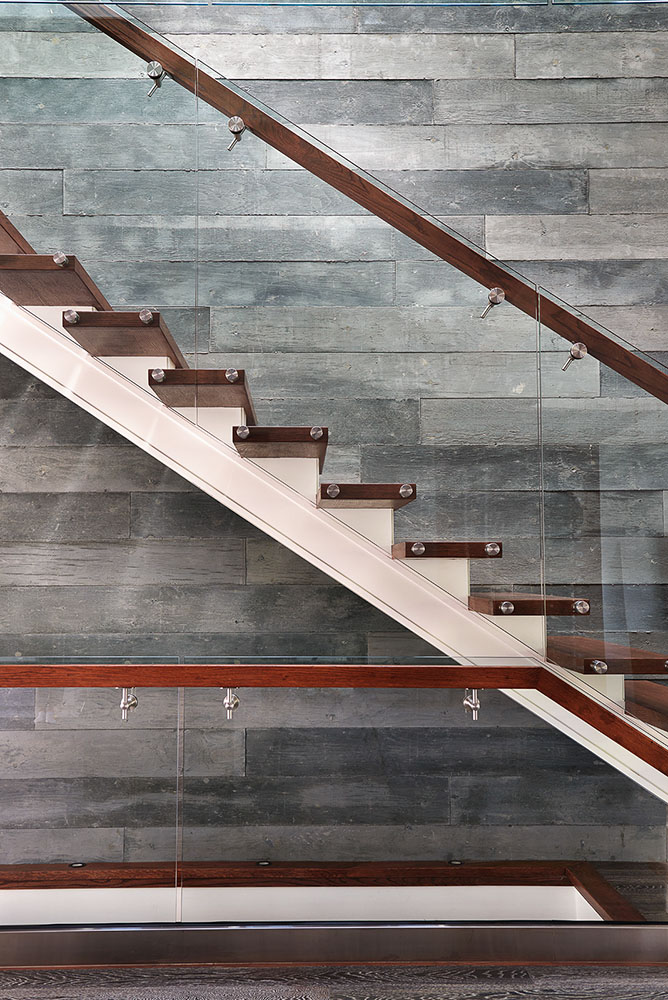 So, whether you fully embrace concrete design and go all in with an industrial home makeover complete with concrete walls and/or floors, or wish to simply sample concrete design with subtle touches of concrete in your home, the growing trend of concrete design really can be for everyone and for every home!
Let's Work Together
At Anthony Concrete Design, we love the versatility of concrete and the limitless options it offers our clients. Get in touch with us to learn how you can incorporate concrete design into the interior or exterior design plans for your home, retail space, workspace, or gallery setting.
Anthony Concrete Design services commercial and residential clients across Canada and Ontario including Toronto, Ontario; Hamilton, Ontario; Burlington, Ontario; Mississauga, Ontario; London, Ontario and the GTA.  We also ship our concrete panels worldwide.